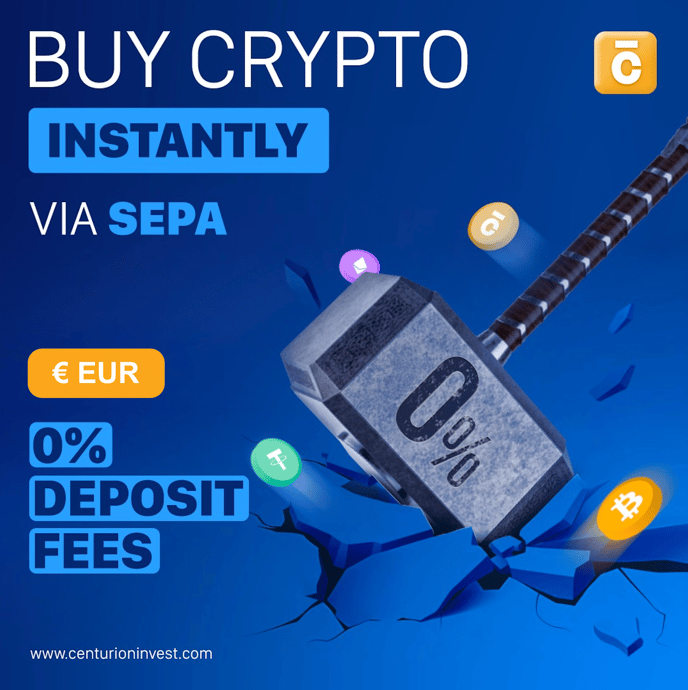 Welcome to Centurion Invest's knowledge base article on our exclusive offer of ZERO fees for SEPA transfers! We're excited to provide you with an in-depth guide on how to take advantage of this limited-time opportunity to save big on your deposits.
1. Introduction to the Offer:
Our exclusive offer allows you to deposit EUR with ZERO fees for SEPA transfers. This means you can save more of your money while enjoying hassle-free transactions on our platform. But remember, this offer is available for a limited time, until October 15th, so act swiftly!
2. Benefits of ZERO Fees:
Save Big: Eliminate transaction fees and maximize your savings.
Seamless SEPA Transfers: Experience smooth and convenient transactions.
Cryptocurrency Freedom: Dive into the world of cryptocurrencies without extra costs.
3. Steps to Take Advantage of This Offer:
Log in to your Centurion Invest account.
Visit your CI wallet.
Click on Deposit under the current account section.
Choose EUR.
Copy the Reference ID.
Complete your SEPA transfer wire from your bank account using the provided ID.
4. Terms and Conditions:
We are committed to ensuring a fair and transparent experience for all users. Please carefully review and adhere to the following terms and conditions:
Eligibility: This offer is exclusively available for users within the SEPA zone who wish to deposit in either EUR currency.
KYC (Know Your Customer): To take advantage of this exclusive offer, users must have completed the KYC (Know Your Customer) verification process.
Offer Validity: This exclusive offer expires on October 15th! Make the most of this limited-time opportunity.
Unlimited Transactions: There is no limit on the number of SEPA transfers you can initiate during the campaign. Feel free to make the most of fee-free transactions, but please review and follow our platform's guidelines for responsible and legal transactions.
Minimum Deposit: The minimum deposit for this offer is 50 Euros.
Maximum Deposit: You can deposit a maximum of 10,000 Euros during this promotion.
Don't miss out on this fantastic opportunity to supercharge your crypto journey with ZERO fees for SEPA transfers. Remember, this offer won't last forever, so start depositing today and watch your savings grow!
We hope this guide has been helpful in explaining the offer, its benefits, and how to get started. If you have any questions or need assistance, our dedicated support team is here to help. You can also join our vibrant Telegram CIEx Community to connect with fellow traders and discuss the offer in more detail.
Thank you for choosing Centurion Invest for your financial needs. We're here to make your SEPA transfers smooth and cost-effective.
The Centurion Invest Team