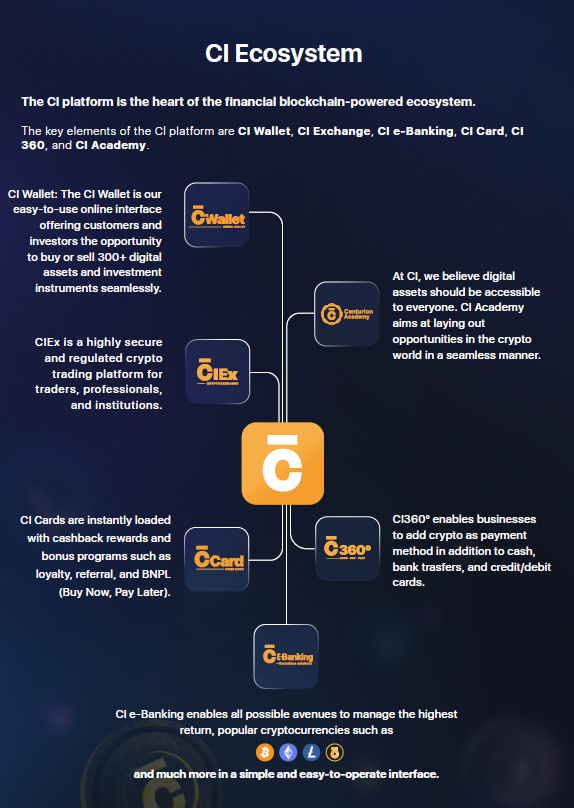 The Centurion Invest ecosystem offers a diverse range of products and services designed to cater to various aspects of the blockchain and cryptocurrency space. Centurion Invest ecosystem aims to provide a comprehensive suite of products and services to empower individuals and businesses in the blockchain and cryptocurrency space. Whether it's trading, payments, education, or project support, Centurion Invest offers a range of tools to cater to different needs within the ecosystem. Here's a brief description of each product within the ecosystem:
o   CI Exchange: A platform that allows users to trade cryptocurrencies anytime and anywhere. It provides a user-friendly interface and advanced trading features to facilitate digital asset trading.
o   CIX Global Crypto VISA Card: A borderless solution that enables users to spend their selected digital asset globally. The VISA card allows for convenient and secure transactions, making it easier to utilize digital assets in everyday life.
o   CI360: A payment acceptance solution leveraging blockchain technology. It offers businesses the opportunity to expand their payment acceptance capabilities and benefit from the efficiency and security provided by blockchain.
o   CI Pay: A solution that enables instant, seamless, and global peer-to-peer transactions. Users can send, receive, pay, and get paid using cryptocurrencies, simplifying cross-border transactions.
o   CI Magnet: A program designed to help users monetize their network and become specialists in digital assets. It provides incentives and rewards for referring new users to the Centurion Invest ecosystem.
o   CIX Token: The utility payment token in the center of the Centurion Invest ecosystem. The CIX token is used within the platform for various purposes, such as accessing exclusive benefits, enjoying discounts, participating in staking, and more.
o   CI Earn: A product that allows users to generate passive income through daily payouts. It offers opportunities for users to earn rewards or returns by participating in staking, lending, or other investment activities.
o   CI Academy: An educational platform focused on blockchain basics. It provides resources and courses to help individuals learn about the fundamentals of blockchain technology and its various applications.
o   CI Labs: A platform that supports startups and projects in the blockchain space. It offers resources, mentorship, and guidance to help bootstrap, incubate, and accelerate innovative projects.