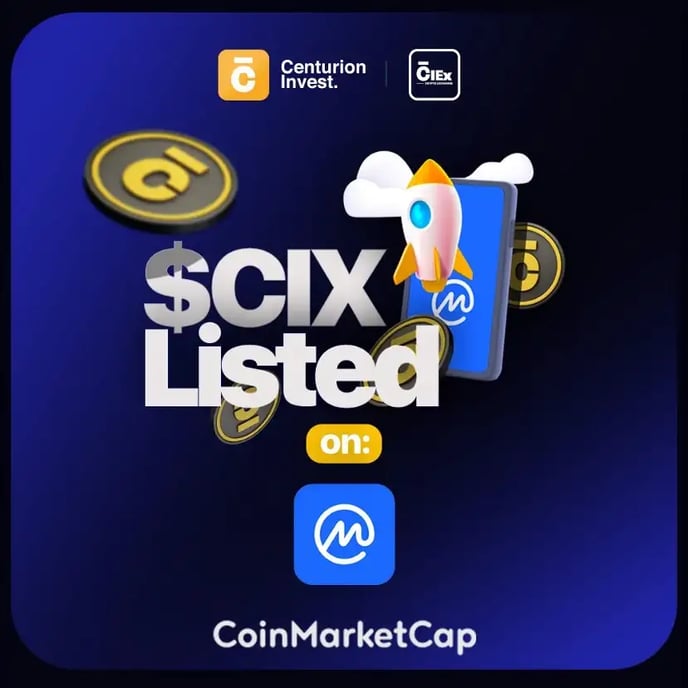 The Centurion Invest platform's native $CIX token, has continued to move up the progress ladder in all essence. While we work to ensure that the token ultimately becomes a true utility asset for all of our company's transaction activities, we have already started out on the implementation of the basic procedures that should precede these events.
Official market listings are important, considering the peculiarities of cryptocurrency token use. This would facilitate the effectiveness of their purpose, and relevance in the overall digital currency space. Consequently, we're putting all the needed actions to play — both as pertains to the $CIX token use on our Financials services, as well as the methods by which people are able to gain access to them through trade.
Effect of $CIX token listing for the token holders:
There are a number of sequel effects that this latest development would have for our platform, as well as the $CIX supporters who are holders of our tokens. Overall, we would consider these, as advantages for both parties — especially considering the following two points:
• The listing poises $CIX on a tendency for price appreciation over time, since crypto stakeholders are able to observe the trends, and may then signify interest. Now, although $CIX was not designed to fundamentally serve as a store of financial value, it is still a digital currency and would consequently exhibit the accompanying traits. Hence, holders of our tokens may see profit from the CIEx ecosystem, with utilities and benefits across payments, financial services, loyalty rewards, referral bonuses, airdrops, high APY passive income staking, options, spot trading, margin trades, Visa crypto debit card, ETF, NFTs, and derivatives.
• Due to the dynamics of the digital currency scene, market listings have been identified as an important way of facilitating increased credibility scores for a digital currency project. All of this still leads back to the reliability that has been associated with the market listing platform. The effect this has for us is improved publicity of our company's overall activities, and the utility relevance we provide.
As we move ahead on the market, we are looking at other possible listings in the near future.
👋🏻Connect with Us:
🔗 https://linktr.ee/centurion_invest