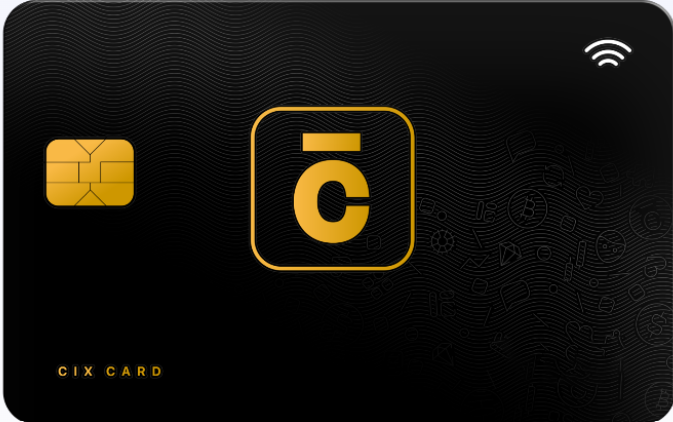 We are delighted to announce that all CIX holders are now eligible to obtain a CIX Crypto Visa card, providing our investors with the ability to utilize their cryptocurrency assets for everyday transactions.
But that's not all. We are thrilled to inform you that the Elite card is now available and activated for all investors who have transferred their assets to CIX.
The CIX Crypto Visa card offers a seamless solution for using your CIX tokens for day-to-day purchases, providing the same convenience as traditional payment methods. Accepted at any merchant that accepts Visa, the card grants CIX holders the freedom to spend their assets wherever they desire.
We believe that offering the CIX Crypto Visa card is a significant step towards enhancing the accessibility and user-friendliness of your assets. By providing a convenient and secure means for investors to utilize their assets, we are bridging the gap between traditional finance and the new world of blockchain.
Please note that the CIX Crypto Visa card is currently available in a digital virtual version, easily accessible from your wallet, and usable for online purchases.
Stay updated on your expenditures with real-time push notifications. Access your payment history within the CI App to monitor your purchases, and withdrawals, and view real-time cashback rewards. Every transaction you make will be accompanied by real-time push notifications.
The CIX Crypto Visa card offers numerous benefits, including low transaction fees, no annual fees, and the freedom to utilize your cryptocurrency assets worldwide wherever Visa is accepted. As a debit card integrated with the Visa payment system, the CIX Crypto Visa card is backed by Visa's security measures and fraud prevention, ensuring the safety and security of your transactions.

Additionally, you can connect your CIX Crypto Visa card to Google Pay and Samsung Pay, further enhancing its convenience for everyday transactions.
Don't miss out on the opportunity to use your assets for everyday purchases. Pre-order your CIX Crypto Visa card today if you haven't done so already! Simply log in to your CIEX wallet and place your pre-order.
We are thrilled to provide this new service to our investors and are committed to delivering innovative solutions that enhance the accessibility and usefulness of assets for everyone.